Sale of Checks Company or Money Transmitter Surety Bonds in Missouri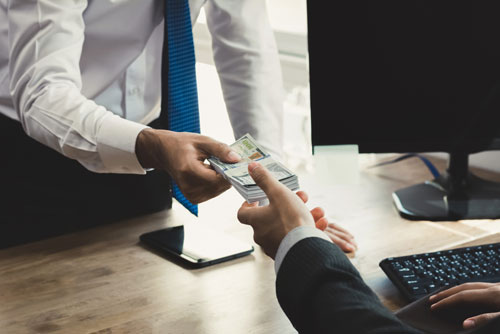 Missouri's Division of Finance works to ensure the safety and soundness of the state's financial institutions, plus monitors compliance with laws and regulations. It also safeguards the funds of depositors and maintains public confidence in Missouri's financial system. One of the industries that the Division regulates is the Sale of Checks.
Anyone who issues checks or transmits money in Missouri for a consideration, must be licensed. Issuing checks or conduction money transmissions without a license is a class A misdemeanor.
Once licensed, a licensee may conduct business through unlicensed agents, subagents, employees, or representatives at one or more locations in the state.
Licensing Regulations
Applications for a license must be in writing and done under oath to the Director
The application must be signed by a notary public
Include a list of all Missouri outlets
Applicants must have an audit certified by a Certified Public Accountant
Submit financial statements that include a balance sheet, income statement, and a statement of changes in financial position
Proof of a surety bond or irrevocable letter of credit for five times the high outstanding/daily transmissions checks from the previous calendar year. The maximum surety bond amount is $1 million, and may be no less than $100,000. The surety bond ensures faithful performance and that all checks (money orders and travelers checks) will be paid.
Verification of your FinCEN registration or a statement explaining why you are exempt from registration
Licensing fee of $300 made payable to the "Division of Finance"
Must file an annual report with the Director
The director may revoke or suspend a license for any reason such as failure to pay the annual fee, or violation of any provision. The licensee must get 10 days' notice, and may make a written demand for a hearing.
Did You Know?
Missouri business owners must register their business with the Secretary of State.
How Much Does This Bond Cost?
The premium that you pay for a Missouri Sale of Checks Company License Surety Bond is dependent on credit and the bond amount required. Our rates start at 1.5% of the bond amount with good credit. Our Surety Bond Specialists can give you a free quote based on your specific situation.
Related Links:
Missouri Money Transmitter License Information
Sale of Checks Application Packet
Missouri Consumer Installment Lender License Bond
Missouri Debt Adjuster Bond
More Surety Bond Questions?
Check out our FAQ page or What's a Surety Bond? page. Should you need or choose to buy a surety bond, buy from us. SuretyGroup.com has been underwriting surety bonds throughout the U.S. for more than 35 years. When you work with us, you enjoy the unique benefit of dealing with a team of highly experienced surety agents with in-house underwriting authority. This allows you to receive competitive, low rates, quick approvals, and immediate bond delivery. In most cases, your bond will be delivered within 24 hours after you apply for it.



For a downloadable application