Most Bid Bonds are No Charge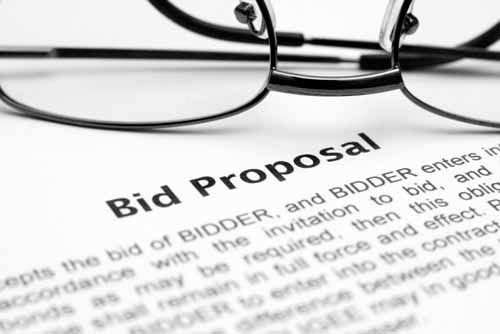 A Bid Bond guarantees that a contractor is bidding on a project in good faith and, if awarded the contract, will be able to obtain the requisite payment and performance bonds. A Bid Bond is often used as a prequalification tool for contractors.
SuretyGroup.com has Bid Bond Programs in place to support all contract sizes and classes of business, including new contractors and first time bids (may go through the SBA Program). Because of our experience and access to credit throughout the US, we can approve bonds other sureties can't.
In most cases, SuretyGroup.com can write Bid Bonds at NO CHARGE. Call us to see if you qualify.
Upon award of the bidded contract, a Payment and Performance Bond (such as for an AIA Contract) may be required and payment of the premium will be due.
Once established, succeeding bids only need the Bid Solicitation Form and a Bid Bond Request Form. Updated financials (corporate and personal) are required if it has been more than a year since the last bond was underwritten.
To get started, call our Surety Bond Specialists at 1‑844‑432‑6637. We'll help you through the bonding process.
New to SuretyGroup.com?
Contractors looking for bid, payment and performance bonds or contractors interested in the SBA Surety Bond Guarantee Program, please complete our
Bond Kit
.
Existing Client?
Here is what we need to complete your Bid Bond:
We have a team of Surety Bond Specialists that are ready to help you through the bonding process. Contact us at:
Phone: 1‑844‑432‑6637
Email: info@suretygroup.com
Fax: 404-351-3237
Hours: 8:00-5:00 CST, Monday through Friday