AIA Contract Project Surety Bonds and More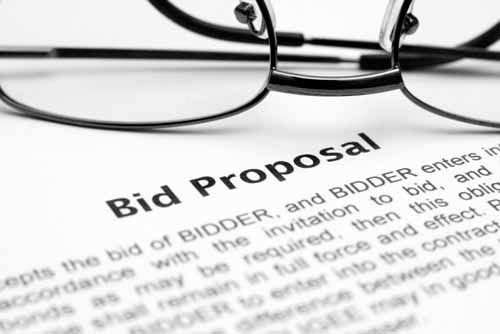 A Bid Bond guarantees that a contractor is bidding on a project in good faith and, if awarded the contract, will be able to obtain the requisite payment and performance bonds. A Bid Bond is often used as a prequalification tool for contractors.
SuretyGroup.com has Bid Bond Programs in place to support all contract sizes and classes of business, including new contractors and first time bids (may go through the SBA Program). Because of our experience and access to credit throughout the US, we can approve bonds other sureties can't.
In most cases, SuretyGroup.com can write Bid Bonds at no cost. A bid bond generally does not have a cost, however if there are circumstances such as the applicant's personal credit or available finances are not sufficient to meet underwriting standards, a surety may then decide to charge a fee for the bid bond. Call us to see if you qualify.
Upon award of the bidded contract, a Payment and Performance Bond (such as for an AIA Contract) may be required and payment of the premium will be due.
Once established, succeeding bids only need the Bid Solicitation Form and a Bid Bond Request Form. Updated financials (corporate and personal) are required if it has been more than a year since the last bond was underwritten.
To get started, call our Surety Bond Specialists at 1‑844‑432‑6637. We'll help you through the bonding process.
New Clients:
Contractors looking for bid, payment and performance bonds or contractors interested in the SBA Surety Bond Guarantee Program, please complete our
Bond Kit
.
Existing Client?
Here is what we need to complete your Bid Bond:
How Much Will This Bond Cost?
In most cases the bid bond has no cost. The premium that you pay for a contract bond will vary in price and is dependent on such factors as business financial statements, experience, work on hand, the amount of the awarded contract and more.
We have a team of Surety Bond Specialists that are ready to help you through the bond process.
More Surety Bond Questions?
Check out our FAQ page or What's a Surety Bond? page. Should you need or choose to buy a surety bond, buy from us. SuretyGroup.com has been underwriting surety bonds throughout the U.S. for more than 35 years. When you work with us, you enjoy the unique benefit of dealing with a team of highly experienced surety agents with in-house underwriting authority. This allows you to receive competitive, low rates, quick approvals, and immediate bond delivery. In most cases, your bond will be delivered within 24 hours after you apply for it.



For a downloadable application