Transportation & Highway Contractors Construction Surety Bonds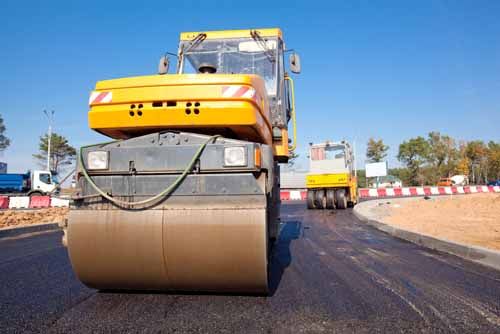 Transportation infrastructure contractors build, maintain, and improve projects such as highways, transit infrastructure, airport runways, highway signs and reflectors, railroads, public sidewalks, gravel or dirt roads, and guardrails for the safety and protection of mobile transportation. Projects are generally contracted by federal, state, or local entities.
Highway and transporation construction contractors will typically be required to secure a payment and performance surety bond before the project may begin.
Surety Bond Requirements:
An obligee is an entity that requires a contractor to obtain a surety bond. In this case, the federal government, a state government (often the Department of Transportation), a city, or a municipality is the obligee. The surety bond ensures the project will be completed as stated in the contract.
Contractual obligations can include a budget, a completion date, and quality of workmanship. Contractors also have an obligation to pay laborers and suppliers.
A surety company determines a contractor's bonding capacity, or amount a contractor can bid on a project. They also determine a contractor's risk of defaulting on a contract. Once the surety approves a contractor and secures a bond with them, then the obligee knows they are protected from any breach of contract.
If a contractor fails to honor the contract terms, the obligee may make a claim on the bond. The contractor (named as the principal on the bond) must repay the claimed amount that the surety paid out.
What Will This Bond Cost?
The premium you pay for a highway and transportation construction contractor surety bond depends on the bond amount, plus personal and business financials, experience in the industry, work on hands and more. Contact SuretyGroup.com's surety bond specialists to get a quote that fits your specific project.
Did You Know?
SuretyGroup.com writes free Bid Bonds for qualifying contractors.
Related Links:
Civil Site Engineering Contractor Surety Bonds
Payment & Performance Surety Bond
Infrastructure Contractor Surety Bond
More Surety Bond Questions?
Check out our FAQ page or What's a Surety Bond? page. Should you need or choose to buy a surety bond, buy from us. SuretyGroup.com has been underwriting surety bonds throughout the U.S. for more than 35 years. When you work with us, you enjoy the unique benefit of dealing with a team of highly experienced surety agents with in-house underwriting authority. This allows you to receive competitive, low rates, quick approvals, and immediate bond delivery. In most cases, your bond will be delivered within 24 hours after you apply for it.



For a downloadable application