What States Require Athlete Agent Registration and Surety Bonds?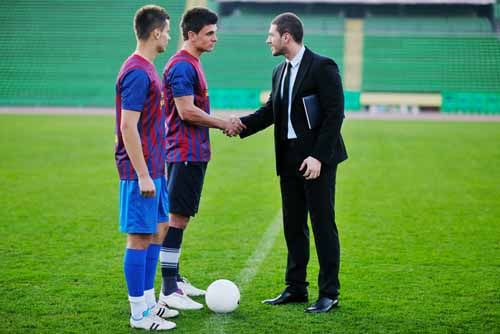 An Athlete Agent or Sports Agent registration is a license and permit surety bond required in certain states.
An athlete agent is a person or company who procures and negotiates employment and endorsement contracts for an athlete. The agent, in return, receives a percentage of the employment endorsement contract value.
In 2000, the Uniform Athlete Agents Act (UAAA) was passed to encourage states to have standardized uniform statutes for professional sports players associations and NCAA college athlete agents. As of 2013, 43 states have passed the Act partially or in its entirety.
Most states have an athlete registration process and generally require a fee for the registration. Georgia, Iowa, Pennsylvania, Oklahoma, and Texas have a surety bond requirement as well. Each state has different requirements, forms and departments that handle the registration process.
The surety bond guarantees that the agent will perform their responsibilities according to the contract entered into with the athlete as well as not take any more funds than the agreed upon commission percentage.
States that Require Surety Bonds:
Georgia requires a $10,000 surety bond. (Apply through the Athlete Agent Regulatory Commission)
Iowa requires a $25,000 surety bond. (Apply through the Secretary of State)
Pennsylvania requires a $20,000 surety bond. (Apply through the Department of State Athletic Commission)
Oklahoma requires a $50,000 surety bond. (Apply through the Secretary of State)
Texas requires a $50,000 surety bond or a separate $100,000 surety bond if the agent provides financial services or if the athlete and the agent enter into a financial services contract. (Apply through the Secretary of State)
Athlete Agent Bond Program
SuretyGroup.com underwrites custom bond programs for Sports Athlete Agents, with rates starting at 1% of the bond amount with good credit. We also offer additional savings if you are required to post surety bonds in more than five states.
If you are unsure about the requirements or how to apply for a bond, please contact our Surety Bond Specialists
Related Links:
Texas Athlete Agent Registration Information
Georgia Athlete Agent Registration
Pennsylvania Athlete Agent Registration
Read our
blog on Athlete Agent Bonds
More Surety Bond Questions?
Check out our FAQ page or What's a Surety Bond? page. Should you need or choose to buy a surety bond, buy from us. SuretyGroup.com has been underwriting surety bonds throughout the U.S. for more than 35 years. When you work with us, you enjoy the unique benefit of dealing with a team of highly experienced surety agents with in-house underwriting authority. This allows you to receive competitive, low rates, quick approvals, and immediate bond delivery. In most cases, your bond will be delivered within 24 hours after you apply for it.



For a downloadable application