Alabama Apprentice Auctioneer Surety Bond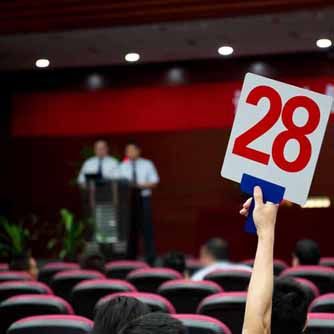 Alabama Apprentice Auctioneer Surety Bonds are an important part of the licensing process for auctioneers.
The Alabama State Board of Auctioneers is responsible for providing regulation to the auction business industry and protecting the public. In addition to providing regulation, the Board of Auctioneers provides administers the licensing process for apprentice auctioneers, auctioneers, reciprocal auctioneer, and non-resident auctioneers.
Title 34-4 of the Code of Alabama defines the Auctioneer License Act requirements. An apprentice auctioneer must work under a licensed auctioneer in Alabama for a minimum of one year before applying for an auctioneer license and will need to obtain a surety bond to ensure faithful performance of duties and compliance of state laws.
Surety Bond and License Requirements:
Completion of the Application for Licensure (ASBA Form 2) and payment of the license fee
Complete the Statement to the Board (ASBA Form I) and Qualifying Questionnaire (ASBA 3)
Obtain a $10,000 surety bond
Submit two Affidavit of Endorsement forms (ASBA 4)
Register (ASBA 5) and take the examination
Secure a sponsoring auctioneer and complete the Sponsoring Auctioneer Affidavit (ASBA 6)
Complete the Criminal History Consumer Report form
Provide proof of citizenship
How Much Does an Alabama Apprentice Auctioneer Bond Cost?
The premium you pay for an Alabama Apprentice Auctioneer Surety Bond rate starts as low as $100 based on good credit. SuretyGroup.com offers free quotes based on your specific information. Give us a call to get started.
Did You Know?
Alabama Apprentice Auctioneer applicants must be 18 years of age or older and a US citizen.
Related Links:
Alabama State Board of Auctioneers
Alabama Auctioneer Code
Alabama Auctioneer Surety Bonds
More Surety Bond Questions?
Check out our FAQ page Or What's a Surety Bond? page. Should you need or choose to buy a surety bond, call us first. SuretyGroup.com has been underwriting surety bonds throughout the U.S. for more than 35 years. When you work with us, you enjoy the unique benefit of dealing with a team of highly experienced surety agents with in-house underwriting authority. This allows you to receive competitive, low rates, quick approvals, and immediate bond delivery. In most cases, your bond will be delivered within 24 hours after you apply for it.



For a downloadable application.