How do I get an Alabama Apprentice Auctioneer License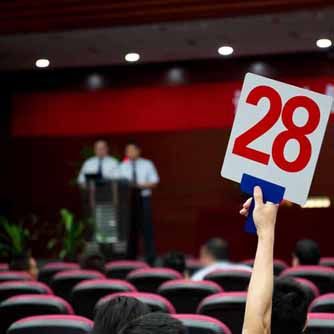 The Alabama State Board of Auctioneers (http://www.auctioneer.state.al.us/default.aspx) is responsible for providing regulation to the auction business industry and protecting the public. In addition to providing regulation, the Board of Auctioneers provides administers the licensing process for apprentice auctioneers, auctioneers, reciprocal auctioneer, and non-resident auctioneers.
Title 34-4 of the Code of Alabama defines the Auctioneer License Act requirements. The following is required for licensure:

1. Completion of the Application for Licensure (ASBA Form 2) and payment of the license fee
2. Complete the Statement to the Board (ASBA Form I) and Qualifying Questionnaire (ASBA 3)
3. Obtain a $10,000 surety bond
4. Submit two Affidavit of Endorsement forms (ASBA 4)
5. Register (ASBA 5) and take the examination
6. Secure a sponsoring auctioneer and complete the Sponsoring Auctioneer Affidavit (ASBA 6)
7. Complete the Criminal History Consumer Report form
8. Provide proof of citizenship
The premium for the Alabama apprentice auctioneer bond starts as low as $100 depending on credit. Our Surety Bond Specialists can provide you with a free, no-obligation quote.
Contact SuretyGroup.com
Phone: 1‑844‑432‑6637
Email: info@suretygroup.com
Fax: 404-351-3237
Hours: 8:00-5:00 CST, Monday through Friday
SuretyGroup.com is your online bond provider.