What Do I Need for an Auctioneer License in Alabama?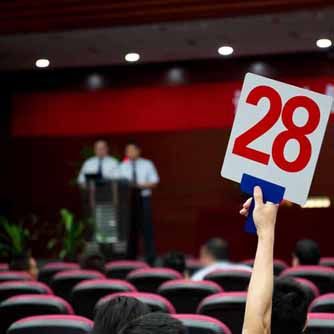 The Alabama State Board of Auctioneers requires that all Auctioneers, Apprentice Auctioneers, Reciprocal Auctioneers and Non-Resident Auctioneers obtain a Alabama Auctioneer Surety Bond.
The surety bond ensures that auctioneers will comply with the Alabama's rules and regulations. Licensees must provide a new bond before an old one expires in order to prevent a lapse in licensure.
Requirements for Alabama Auctioneer license applicants include:

* must be at least 19 years old
* must be a US citizen
* complete a course of study at an accredited auctioneer school
* pay an examination fee
* Obtain a $10,000 surety bond
* must have served as an apprentice auctioneer for one year
* must have been principal auctioneer in at least five auctions
* be recommended by an employing auctioneer
What Will This Bond Cost?
The premium that you pay for a Alabama Auctioneer Surety Bond is dependent on credit.
Did You Know?
Non-residents of Alabama may apply for licensing by reciprocity.
Related Links:
Alabama State Board of Auctioneers
Alabama Auctioneer Code
Contact SuretyGroup.com
Let our Surety Bond Specialists assist you with the bond you need.
Phone: 1‑844‑432‑6637
Email: info@suretygroup.com
Fax: 404-351-3237
Hours: 8:00-5:00 CST, Monday through Friday