What Do I Need for an Auctioneer License in Alabama?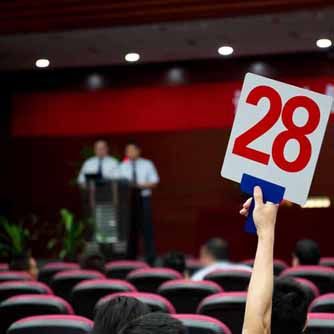 The Alabama State Board of Auctioneers requires that all Auctioneers, Apprentice Auctioneers, Reciprocal Auctioneers and Non-Resident Auctioneers have an Alabama Auctioneer Surety Bond.
This bond ensures that auctioneers will comply with the Alabama's rules and regulations. Licensees must provide a new bond before an old one expires in order to prevent a lapse in licensure.
Requirements for Alabama Auctioneer license applicants include:

* must be at least 19 years old
* must be a US citizen
* complete a course of study at an accredited auctioneer school
* pay an examination fee
* must have served as an apprentice auctioneer for one year
* must have been principal auctioneer in at least five auctions
* be recommended by an employing auctioneer
What Will This Bond Cost?
The premium cost that you pay can depend on many factors including bond amount, your credit history and length of time in business. Contact SuretyGroup.com for a free, no-obligation quote.
Did You Know?
Non-residents of Alabama may apply for licensing by reciprocity.
Related Links:
Alabama State Board of Auctioneers
Alabama Auctioneer Code
Contact SuretyGroup.com
Let our Surety Bond Specialists assist you with the bond you need.
Phone: 1‑844‑432‑6637
Email: info@suretygroup.com
Fax: 404-351-3237
Hours: 8:00-5:00 CST, Monday through Friday