Alabama Auctioneer Surety Bond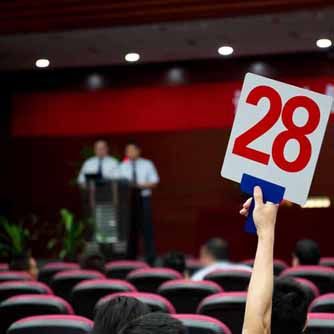 The Alabama State Board of Auctioneers requires that all Auctioneers, Apprentice Auctioneers, Reciprocal Auctioneers and Non-Resident Auctioneers obtain an auctioneer license for any person or entity who gains by commission or any other benefit at auction or with the intention or expectation of receiving a benefit, through the process of an auction or sale at auction, offers or negotiates, or attempts to negotiate a listing sale, contract, purchase, or exchange of goods, chattels, or engages in bid calling for a fee. merchandise, real or personal property and an Alabama Auctioneer Surety Bond.
The surety bond ensures that auctioneers will comply with the Alabama's rules and regulations. Licensees must provide a new surety bond before an old one expires in order to prevent a lapse in licensure.
Surety Bond and License Requirements:
Applicants must be at least 19 years old
Applicants must be a US citizen
Applicants must complete a course of study at an accredited auctioneer school
Applicants will need to pay an examination fee
Applicants will need to obtain a $10,000 surety bond
And must have served as an apprentice auctioneer for one year
The applicant will need to have been a principal auctioneer in at least five auctions
Applicants will need a recommendation by an employing auctioneer
How Much Will an Alabama Auctioneer Bond Cost?
The premium that you pay for a Alabama Auctioneer Surety Bond is dependent on credit. Rates start at a$100 based on good credit. Our Surety Bond Specialists can provide you with a free quote based on your specific information.
Did You Know?
Non-residents of Alabama may apply for licensing by reciprocity.
Related Links:
Alabama State Board of Auctioneers
Alabama Auctioneer Code
Alabama Apprentice Auctioneer Surety Bond Information
More Surety Bond Questions?
Check out our FAQ page Or What's a Surety Bond? page. Should you need or choose to buy a surety bond, call us first. SuretyGroup.com has been underwriting surety bonds throughout the U.S. for more than 35 years. When you work with us, you enjoy the unique benefit of dealing with a team of highly experienced surety agents with in-house underwriting authority. This allows you to receive competitive, low rates, quick approvals, and immediate bond delivery. In most cases, your bond will be delivered within 24 hours after you apply for it.




For a downloadable application.