Water and Sewer Contractor Contract Surety Bonds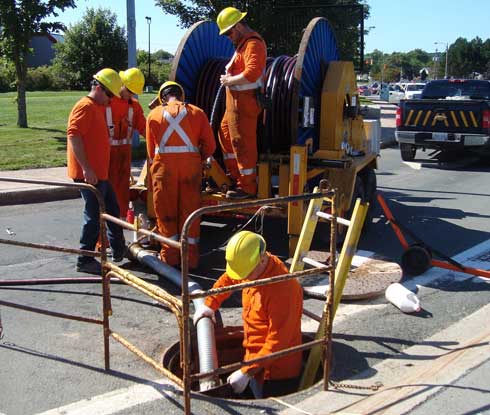 Water and sewer contractors plan, install, and manage the installation and repair of sewer and water services.
Large projects can include working on manholes, force mains, sewer pump stations, storm sewer systems, sanitary sewer systems, underground utility and street construction, water service connections, side sewers, and much more based on the obligee's requirements. The obligee is the entity that has the bond requirement that is most likely based on an awarded contract.
Licensing requirements vary by state, but could consist of examinations, exam fees, and documented experience. Contractors may also need to obtain a surety bond before work on a project can begin.
Surety Bond Requirement
If a payment and/or performance surety bond is required for a water or sewer contract project, the bond amount will vary depending on factors such as the state where the project is taking place, the project size, and a contractor's experience.
The bond is a guarantee that protects the public health and the environment by ensuring proper construction and installation, and guards against defective workmanship and materials. The bond also protects the obligee from financial harm, and ensures the contractor works within the city's construction standards and regulations.
What Will a Water and Sewer Contractor Contract Bond Cost?
The premium you pay for a Water and Sewer Contractor Surety Bond varies depending on your state, the size of the project, and your personal and business financials. Contact our Surety Bond Specialists for a free quote that fits your specific project.
Did You Know?
A contractor's license can be revocated or suspended for failure to maintain a surety bond.
Related Links:
Contract Performance Bonds from SuretyGroup.com
Infrastructure Contract Surety Bonds
More Surety Bond Questions?
Check out our FAQ page or What's a Surety Bond? page. Should you need or choose to buy a surety bond, buy from us. SuretyGroup.com has been underwriting surety bonds throughout the U.S. for more than 35 years. When you work with us, you enjoy the unique benefit of dealing with a team of highly experienced surety agents with in-house underwriting authority. This allows you to receive competitive, low rates, quick approvals, and immediate bond delivery. In most cases, your bond will be delivered within 24 hours after you apply for it.



For a downloadable application