Money Transmitter Bonds for Washington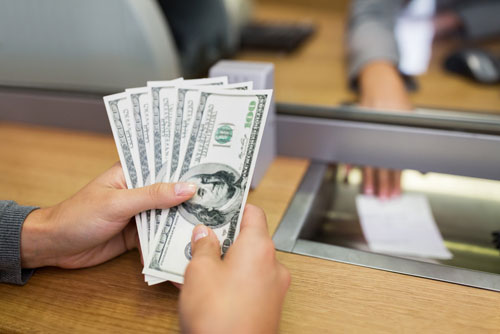 A money transmitter sells or issues payment instruments, or engages in the business of receiving money for transmission from, or transmitting money to another location by any means, including a payment instrument, wire, facsimile, or electronic transfer.
A payment instrument can include a check, draft, money order, traveler's check, or an instrument or written order for the transmission or payment of money. It does not include a credit card voucher, a letter of credit, or an instrument that is redeemable by the issuer in goods or services.
Money transmitters in the state of Washington must be licensed, and a part of licensing is to obtain a surety bond.
Licensing Requirements
Money transmitters must use the NMLS (Nationwide Multistate Licensing System and Registry) to apply for a license. Licensing requirements include:
Must have at least $10,000 tangible net worth for every $1 million of money transmission and payment instrument dollar volume. The minimum amount is $10,000 and the maximum amount is $3 million.
Register as a Money Services Business with the US Treasury Department within 180 days from starting operations.
Obtain a Master Business License from the Washington State Department of Revenue, Business Licensing Service. Trade names are to be registered on the Master Business License. The Master Business License will show the Unified Business Identifier number.
If required, register the business with the Department of Revenue.
Provide required documents such as financial statements, business plan, flow of funds structure, management chart, and organizational chart.
Criminal background check and credit report are required for individuals in a position of control.
Provide a surety bond of at least $10,000 and no more than $550,000
A money transmitter license authorizes the following activities:
Electronic money transmitting
Issuing or selling of traveler's checks
Issuing or selling of money orders
Bill paying
Issuing and/or selling drafts
Transporting Currency
Issuing and selling prepaid access/stored value
Foreign currency dealing or exchanging
Other – money services
Surety Bond Requirement
Money transmitters in Washington must submit a surety bond in an amount based on the previous year's transmission dollar volume, and the previous year's payment instrument dollar volume. The bond amount is $10 for every $1 million of transmission and payment instrument dollar volume. The minimum amount is $10,000 and the maximum amount is $550,000.
The director may increase the bond amount up to a max of $1 million based on the nature and volume of business activities, the financial health of the company, and other criteria specified by the director.
In lieu of a bond, a certificate of deposit must be maintained for at least five years after the date the money transmitter ceases to provide services.
A surety bond is for the benefit of the state and any person or persons who suffer loss by the licensee's violation of the rules.
The bond must remain in effect at least five years after the money transmitter ceases to provide money services in the state, or five years after the date of a money transmitter's violation.
How Much Will This Bond Cost?
The premium you pay for a Washington Money Transmitter surety bond depends on the bond amount and your credit. Our rates start at 1.5% of the bond amount with good credit. Contact our Surety Bond Specialists for a free quote that fits your specific situation.
Did You Know?
Washington money transmitters who sell virtual currency must have a tangible net worth of at least $100,000.
Related Links:
Washington Uniform Money Services Act
More Surety Bond Questions?
Check out our FAQ page or What's a Surety Bond? page. Should you need or choose to buy a surety bond, buy from us. SuretyGroup.com has been underwriting surety bonds throughout the U.S. for more than 35 years. When you work with us, you enjoy the unique benefit of dealing with a team of highly experienced surety agents with in-house underwriting authority. This allows you to receive competitive, low rates, quick approvals, and immediate bond delivery. In most cases, your bond will be delivered within 24 hours after you apply for it.



For a downloadable application