How Do I Get an Underground Storage Tank Surety Bond?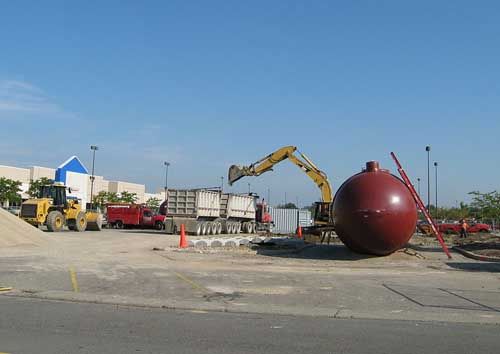 Many states have implemented programs to comply with the US Environmental Protection Agency (EPA) regulations and financial responsibility requirements to ensure that underground storage tanks (USTs) are in safe working order to protect both drinking water and human health.
Gas stations, convenience stores and local governments having underground tanks that store petroleum must comply with financial responsibility requirements set forth in state and federal regulations. The purpose of the financial responsibility requirement is to ensure that owner/operators have the financial means to clean up spills and overfills, repair or replace leaking corrosive tanks and lines, and provide for compensation for third parties if any bodily injury or property damage occurs.
There are several types of financial responsibility that can be used to satisfy the requirement and each state determines which they will accept. The options may include:

1. A Surety Bond: Guarantees that the owner or operator will perform the duties noted in the bond.
2. Obtain insurance coverage: A policy obtained through a risk retention group or insurance company.
3. Obtain a letter of credit: Usually issued by a bank that is a guarantee of payments in the event of specific conditions.
4. Obtain a guarantee: A guarantee by another firm for the coverage amount and whom can pass a "financial test."
5. Pass the financial test: Owner and operators that have a tangible net worth of at least $10 million.
6. Set up a trust fund: Third party must administer the fund.
7. Use of the state financial assurance funds: Some states have funds to assist with third-party liability, leaking tanks and/or clean-ups of spills.
8. Other state financial responsibility options: Some states may have other financial options available.
9. Local governments may have additional compliance requirements (see 40 CFR Part 280).

The amount of financial responsibility that is required varies by state and whether there are assurance funds available. States such as Alabama, Arizona, California, Arkansas, the District of Columbia, Georgia, Hawaii, Florida, Idaho, Illinois, Indiana, Kansas, Kentucky, Iowa, Maine, Maryland, Massachusetts, Michigan, Montana, Nebraska, Missouri, Nevada, New Hampshire, New Mexico, North Carolina, New Jersey, Oregon, Alaska South Carolina, Tennessee, Vermont, Texas, Virginia, Washington, and Wisconsin all have some form of a financial responsibility requirement.
Owners and operators that choose to obtain a surety bond or performance bond can apply for the bond they need with SuretyGroup.com. The bond amount may be determined by the number of gallons of petroleum that pass through a UST tank on an annual basis or other conditions may apply based on the state requirements.
How Much Will This Bond Cost?
The premium you pay for an Underground Storage Tank Surety Bond is based on the bond amount the state is requiring and the owner's credit. Bond amounts over $50,000 will require financial statements as well.
Did You Know?
Global underground gas storage is expected to increase by more than 200 billion cubic meters by 2030 from the current day storage of approximately 377 billion cubic meters.
Related Links:
Underground Storage Tanks (USTs) EPA Regulations
Read our blog,
Underground Storage Tanks Financial Responsibility
How Do I Get Bonded?
Contact SuretyGroup.com at:
Phone: 1‑844‑432‑6637
Email: info@suretygroup.com
Fax: 404-351-3237
Hours: 8:00-5:00 CST, Monday through Friday