Does a Texas Combative Sports Promoter Have a Bond Requirement?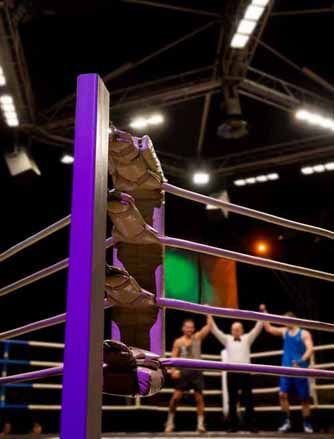 The Texas Department of Licensing and Regulation oversee the licensing of Combative Sports Promoters. Combative Sports includes boxing, kick boxing, shoot wrestling/fighting, pankration wrestling/fighting and mixed martial arts.
A promoter is a person who produces, arranges, advertises, conducts or states a combative sports event.
Responsibilities of a Promoter Include:

Be responsible for the finances of the event.
Provide event details to the Texas Department of Licensing before advertising or selling tickets.
Ensure all contestants are licensed before the event.
Have at least two emergency medical technicians are on site during the events.
Provide for a physical exam of each contestant.
Only allow beverages at the event in paper or plastic cups.
Payment to ringside physicians, staff and contestants must be made immediately after the event.
Provide private dressing rooms for contestants, and separate dressing rooms for male and female contestants.
Within three days of the event, provide the department a tax report and 3% gross tax receipts.
Comply with the rules of the commission.

Promoter applicants must complete the application and disclosures, and pay the applicable license fee.

Applicants must agree to an interview by the Combative Sport staff at the Austin Department of Licensing and Regulation prior to a license being issued.

Applicants will need to purchase two required surety bonds:

Obtain a Combative Sports Bond For Gross Receipts Tax Bond is a $15,000. This surety bond guarantees payment of gross tax receipt taxes owed for promoted events.

Obtain a Combative Sports Promoter Bond a $15,000 surety bond that guarantees payment of all obligations, except gross receipt taxes.
How Much Will This Bond Cost?
The premium that you pay for a Texas Combative Sports Promoter Bond and A Combative Sports Bond for Gross Receipts Tax is dependent on credit.
Did You Know?
That sports promoter applicants must be current on any student loans that may be reported on their credit, or a repayment agreement must be in place before a license will be issued.
Have Questions?
Contact our Surety Bond Specialists at:
Phone: 1‑844‑432‑6637
Email: info@suretygroup.com
Fax: 404-351-3237
Hours: 8:00-5:00 CST, Monday through Friday