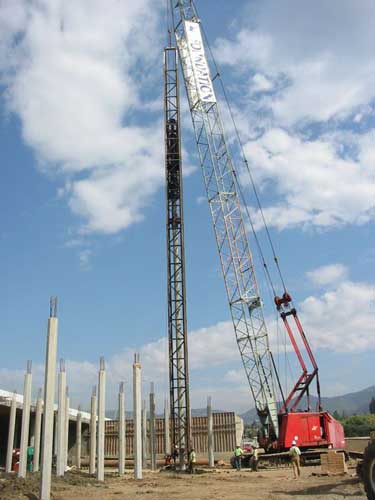 Pile driver contractors provide the support system for projects such as bridges, building foundations, piers, retaining walls, bulkheads, and other structures.
In some states and municipalities, pile driver contractors must have a crane operator license. They may also need to obtain a surety bond before a project can begin.
Why Do I Need a Surety Bond?
A surety bond protects the owner of the project from contractors that may not fulfill their contractual obligations. A Pile Driver Contractor may have the following responsibilities included in a contract:
specific time schedule for completing the project
staying within a specific budget
description of work to be done
paying all suppliers and subcontractors for labor and materials
The surety bond is a legal contract between three parties: the project owner (the obligee), the contractor (the principal), and the surety company. The bond guarantees that a contractor will faithfully perform all duties set forth in the contract.
If the contractor fails his obligations, then the project owner may submit a claim on the bond to the surety company. If the surety finds that the contractor is at fault, then the surety assumes responsibility and will see that the project is completed. The contractor is then obligated to reimburse the surety for the work done or payments made.
What Will This Bond Cost?
The premium you pay for a pile driver contract payment and performance surety bond depends on factors such as the bond amount, plus the condition of your business and personal financial statements. Contact our Surety Bond Specialists for a free quote that fits your specific situation.
Did You Know?
Leonardo da Vinci is one of several men credited with the invention of the pile driver. However, a similar device may have been used in Scotland as early as 5,000 years ago.
Related Links:
More Surety Bond Questions?
Check out our FAQ page or What's a Surety Bond? page. Should you need or choose to buy a surety bond, buy from us. SuretyGroup.com has been underwriting surety bonds throughout the U.S. for more than 35 years. When you work with us, you enjoy the unique benefit of dealing with a team of highly experienced surety agents with in-house underwriting authority. This allows you to receive competitive, low rates, quick approvals, and immediate bond delivery. In most cases, your bond will be delivered within 24 hours after you apply for it.



For a downloadable application