Surety Bonds for a New York Check Casher License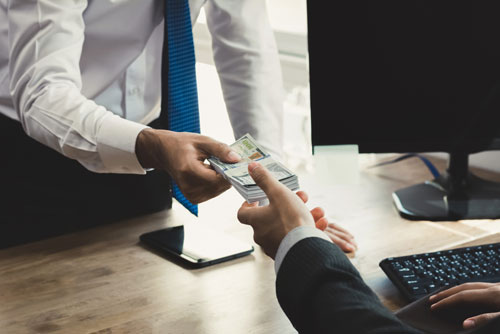 The New York Department of Financial Services licenses and regulates New York check cashers who are in the business of cashing checks, drafts or money orders for consideration. All applicants for a New York check cashing license must register with the Department and apply through the Nationwide Multistate Licensing System & Registry (NMLS).
The Department works to protect the public by investigating those who operate in the industry, and has established a maximum fee that check cashers may charge their customers. The fee is adjusted annually.
Licensing Requirements
Application requirements include:
Pay an application fee of $3,000
Net Liquid Assets and Line of Credit Requirements: Applicants must have at least $10,000 for each location and obtain a credit facility letter showing access to a line of credit of $100,000
Applicants must meet a Minimum Tangible Net worth of $50,000 per licensed location
Submit supporting documents including an application, business plan, Certificate of Authority/Good Standing Certificate, Document Samples, Formation Documents, and Organizational Chart/Description.
A licensee or applicant for a Check Casher License may act as an agent for a licensed Transmitter of Money. They must submit an application with applicable materials to obtain written approval.
Surety Bond Requirement
New York check cashers who accept utility bill payments as an agent of a licensed money transmitter are required to obtain a surety bond. The bond amount is $100,000 for each licensed location.
There are three entities involved in a surety bond contract: the obligee who requires the bond (The New York Department of Financial Services), the principal who must obtain the bond (the check casher), and the surety company (such as SuretyGroup.com).
The surety bond is required to protect consumers in the event a check casher fails to comply with the state laws and regulations. If found in violation, a claim may be placed against the bond, and the licensee (the principal listed on the bond) is responsible for repayment of the claimed amount. If the surety pays the claim, the principal is required to reimburse the surety.
What Will This Bond Cost?
The premium you pay for a New York Check Casher License Surety Bond is 1.5% of the bond amount with good credit. Contact our Surety Bond Specialists for a free quote that fits your specific situation.
Did You Know?
All applicants for a New York Check Casher License must be fingerprinted.
Related Links:
NMLS: New York Check Casher License - New Application Checklist
More Surety Bond Questions?
Check out our FAQ page or What's a Surety Bond? page. Should you need or choose to buy a surety bond, buy from us. SuretyGroup.com has been underwriting surety bonds throughout the U.S. for more than 35 years. When you work with us, you enjoy the unique benefit of dealing with a team of highly experienced surety agents with in-house underwriting authority. This allows you to receive competitive, low rates, quick approvals, and immediate bond delivery. In most cases, your bond will be delivered within 24 hours after you apply for it.



For a downloadable application