Minnesota Money Transmitter Surety Bond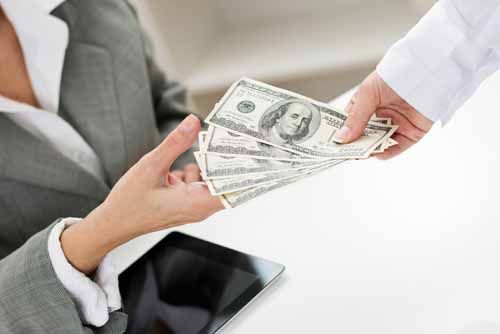 The Minnesota Department of Commerce protects the public interest by licensing, supervising and examining financial institutions along with other industries. The Department also investigates consumer complaints and related financial crimes. Minnesota money transmitters are one of the industries licensed and regulated by the Department. A money transmitter is an individual or business that cashes checks, transmits money, owns and operates ATMs, and provides electronic funds transfers. One of the licensing requirements for Minnesota money transmitters is to obtain a surety bond or other security.
Surety Bond Requirements:
A $25,000 surety bond, irrevocable letter or credit, or other security device must be in place during the entire license period in which money transmission services are offered.
The security device is required to protect consumers in the event a money transmitter (the licensee) fails to comply with the state regulations and laws. A claim may be placed against the security device. In the case of a surety bond, if the licensee (the principal listed on the bond) is found in violation, the licensee is responsible for repayment of the claimed amount. If the surety pays the claim, the principal is required to reimburse the surety.
A security device remains in effect until cancellation, and may only be cancelled after 30 days' written notice to the Commissioner. Cancelling does not affect the rights of any claimants for any liability incurred or accrued during the period in which the bond was in force.
The security must remain in place no longer than five years after the licensee ceases money transmission operations. The commissioner may reduce or eliminate the requirement as it deems appropriate.
License Requirements:
Minnesota money transmitters must obtain a license through the Department of Commerce before they can begin business operations. A single license allows a licensee to conduct business at one or more locations, or through one or more authorized delegates.
Registration is through the NMLS, and requires a $4,000 application fee. The renewal fee is $2,500. Renewals must also include an annual renewal report. Other licensing requirements include:
List of other trade names
Resident/Registered Agent information
Bank account information
Disclosure Questions - Provide explanations for any "yes" responses
Financial statements - Upload most recent audited financial statement
Net Worth - Each licensee with three or fewer locations in the state must have a net worth of at least $25,000. Four to six locations requires $50,000 net worth. Seven locations require $100,000, with an additional net worth of $50,000 for each location or authorized delegate in the state over seven, with a maximum requirement of $500,000.
Business Plan
Certificate of Authority / Good standing certificate: Corporate applicants must be in good standing in the state of its incorporation at the time of filing an application. Non-corporate applicants must be registered or qualified to do business in the state.
Document samples
Authorized delegates or company owned locations - complete the Branch Form (MU3) in NMLS. Authorized delegates complete Exhibit A.
Criminal background check - executive officers, managers, owners and key shareholders must submit a background check and an Authorization to Release Information form.
Formation documents:

Corporate Charter or Articles of Incorporation (if a corporation)
Articles of Organization and Operating Agreement (if an LLC)
Partnership Agreement (if a partnership)
Certificate of Foreign Corporation (if applicant was organized or formed outside of Minnesota)

Management Chart
Organizational Chart / Description - if applicant is owned by another entity
Surety bond or other security
Uniform consent to service or process form
Affidavit of Official Signing Application
Workers compensation insurance
Fraud Prevention Measures - upload and mail evidence of compliance with Minnesota Statutes Section 53B.27.
How Much Will This Bond Cost?
The premium that you pay for a Minnesota Money Transmitter Surety Bond is dependent on credit and the bond amount required. Our rates start at 1.5% of the bond amount for good credit. Contact our Surety Bond Specialists for a free quote that fits your specific situation.
Did You Know?
Minnesota money transmitters must display a copy of their license in public view at each business location where money transmission services are offered.
Related Links
Minnesota Department of Commerce - Money Transmission Licensing Information
Minnesota Money Transmitters Act
NMLS: Minnesota Money Transmitter Application
More Surety Bond Questions?
Check out our FAQ page or What's a Surety Bond? page. Should you need or choose to buy a surety bond, buy from us. SuretyGroup.com has been underwriting surety bonds throughout the U.S. for more than 35 years. When you work with us, you enjoy the unique benefit of dealing with a team of highly experienced surety agents with in-house underwriting authority. This allows you to receive competitive, low rates, quick approvals, and immediate bond delivery. In most cases, your bond will be delivered within 24 hours after you apply for it.



For a downloadable application