Michigan Underground Storage Tanks Surety Bond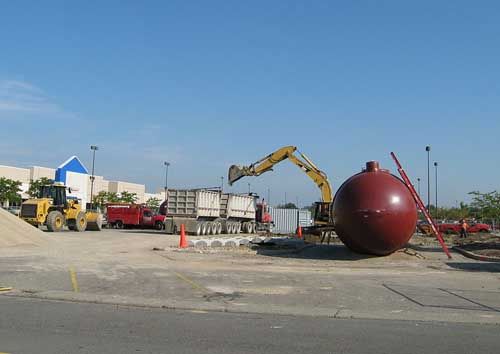 Or call 844-432-6637

The Michigan Department of Licensing and Regulatory Affairs (LARA), Bureau of Fire Services, Storage Tank Division, is a regulatory agency that promotes safe storage and handling of flammable and combustible liquids. The Division enforces the state rules and regulations through oversight for tanks above ground and underground and the storage of regulated substances. This includes new tank installation, plan reviews, removal of existing tanks, inspections and other administrative functions. The Storage Tank Division of Michigan Statutory Authority Part 211 of the Underground Storage Tank Regulations of the 1994 PA 451, amended requires a form of financial responsibility for the annual registration of underground storage tanks (UST's).
The Registration Process Includes:
For new permits, completion of the pre-registration form BFS3820, a site plan, and diagram plans for installation will be required.
New tanks and existing tanks that hold regulated substances will require the completion of registration form BFS3821 and payment of the registration fee after the tanks have passed inspection.
Owners of UST's must keep the Division informed of any ownership changes within 30 days of the change and will require an updated registration form BFS3821.
Owner/operators that plan to close a tank or change services must notify the Division 30 days prior to the closure or change.
If an accidental or suspected leak occurs the owner/operator must report the leak within 24 hours. Additional reporting requirements must be reported within 14 days (update of exposure).
Site plans for the registration process will need to include proximity of power lines, roadways, railways, storm and manholes, catch basins and other environmental associated factors. The plans will also need to include property lines.
Diagram plans for the UST will need to include depth of tank, piping, method of leak detection, pipes, the type of substance to be stored, breakaway devices, etc.
Additionally, the owner/operator must report of any nearby drinking water well within 300 feet or 800 feet from nonpublic drinking water wells (Type llb or Type lll) or 2000 feet from non-community drinking water wells (Type 1 or Type lla) of the proposed tank site.
New tanks will require an inspection by the field office and must be certified to be in compliance with the state requirements.
Annual renewal registration payments will need to be sent to: LARA, Cashiers Office UST/AST, PO Box 30033, Lansing MI 48909.
Proof of Financial Responsibility
Owner/operators must also provide proof of financial responsibility. This includes obtaining a surety bond in the amount or either $2,000 or $10,000 based on the state requirement. Or by providing another form of financial responsibility acceptable to the state. If a surety bond is chosen as the form of financial responsibility used, both owners and tenants must both be registered with LARA and both may be required to be named in the bond depending on the terms of the lease agreement or contract of the property. LARA will determine who is to be named on the surety bond.
How Much Will a Michigan UST Bond Cost?
The premium that you pay for a Michigan Financial Responsibility for Underground Storage Tank Surety Bond is dependent on the bond amount required and personal credit.
Did You Know?
Global underground gas storage is expected to increase by more than 200 billion cubic meters by 2030 from the current day storage of approximately 377 billion cubic meters.
Related Links:
Read our blog,
"Why Are Underground Storage Tanks In Michigan Regulated?"
Where Can I Get a Michigan UST Surety Bond?
Contact SuretyGroup.com today at:
Phone: 1‑844‑432‑6637
Email: info@suretygroup.com
Fax: 404-351-3237
Hours: 8:00-5:00 CST, Monday through Friday
More Surety Bond Questions?
Check out our FAQ page. Should you need or choose to buy a surety bond, SuretyGroup.com has been underwriting surety bonds throughout the U.S. for more than 35 years. When you work with us, you enjoy the unique benefit of dealing with a team of highly experienced surety agents with in-house underwriting authority. This allows you to receive competitive, low rates, quick approvals, and immediate bond delivery. In most cases, your bond will be delivered within 24 hours after you apply for it.


For a downloadable application