Massachusetts Check Seller License Surety Bonds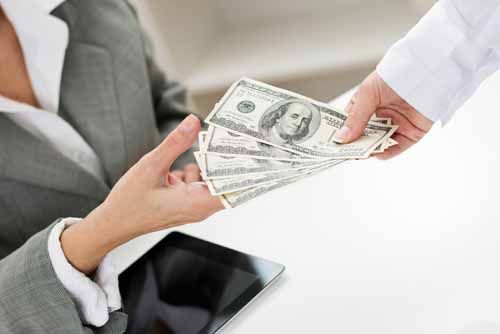 The Massachusetts Division of Banks supervises state-chartered banks and credit unions, along with non-depository institutions doing business in Massachusetts. The Division implements and enforces consumer protection laws and educates consumers on how to make informed financial decisions. One of the industries that is licensed and regulated by the Division is check cashers who sell, issue, or register checks or money orders. A part of licensing for check cashers is to obtain a $100,000 surety bond.
Surety Bond Requirements
The Massachusetts Division of Banks is the obligee that requires check cashers to obtain a $100,000 surety bond. The bond must be submitted electronically through the NMLS. The surety bond is required to protect consumers in the event a check casher (the licensee) fails to comply with the state laws and regulations. If found in violation, a claim may be placed against the bond, and the licensee (the principal listed on the bond) is responsible for repayment of the claimed amount. If the surety pays the claim, the principal is required to reimburse the surety.
License Requirements
Licensees need to demonstrate that there is a public need for a check casher in the area where they plan to do business. Applicants need to review all laws and regulations for check cashers before submitting an application.
Licensing fees for Massachusetts Check Cashers are:
Fees: License/Registration $1000
Application fee $300 (investigation fee)
Credit report for control persons $15
FBI Criminal Background Check for MU2 Individual $36.25
The following are required to be uploaded in NMLS:
Submission of Company Form (MU1): this is the application for the license/registration
Financial Statements of the most recent fiscal year end, and the prior two fiscal years. Should include a balance sheet, income statement, and statement of cash flows and all relevant notes. The financial statement must show a positive company net worth.
Other Trade Name: List all DBA's. The licensee first needs to have DBA's approved and licensed to conduct business in Massachusetts before applying for "Other Trade Name" licenses through the NMLS.
Resident/Registered Agent
Primary Contact Employees
Non-Primary Contact Employees
Bank Account information
Approvals and Designations
Disclosure Questions, provide explanations for any "yes" answers
Qualifying individual
Control Person (MU2) Attestation
Credit Report
MU2 Individual FBI Criminal Background Check Requirements
Surety Bond: Submit and electronic surety bond via the NMLS for $100,000
Anti-Money Laundering/Compliance Policy
Independent Review
Business Plan
Certificate of Authority/Good Standing Certificate
Formation Documents
Management Chart
Organizational Chart/Description
Required Documents to be submitted outside of NMLS:
W-9 Form
Agents -submit a list of proposed agents
Parent Financial Statements - submit current and prior two year's financial statements
Lines of Credit
Business in other jurisdictions (this form is not required for applicants who are licensed/registered in jurisdictions that are on NMLS)
How Much Does This Bond Cost?
The premium that you pay for a Massachusetts Money Transmitter Surety Bond is dependent on credit and the bond amount required. Our rates start at 1.5% of the bond amount with good credit. Our Surety Bond Specialists can supply you with a free quote that fits your specific situation.
Did You Know?
Anyone in Massachusetts who engages in cashing checks, drafts, or money orders for more than $1.00 per item must be licensed by the Division of Banks.
Related Links
NMLS - Massachusetts New Application Checklist
Massachusetts Information on Selling or Registering Checks or Money Orders
More Surety Bond Questions?
Check out our FAQ page or What's a Surety Bond? page. Should you need or choose to buy a surety bond, buy from us. SuretyGroup.com has been underwriting surety bonds throughout the U.S. for more than 35 years. When you work with us, you enjoy the unique benefit of dealing with a team of highly experienced surety agents with in-house underwriting authority. This allows you to receive competitive, low rates, quick approvals, and immediate bond delivery. In most cases, your bond will be delivered within 24 hours after you apply for it.



For a downloadable application