Maryland Money Transmitter License Surety Bonds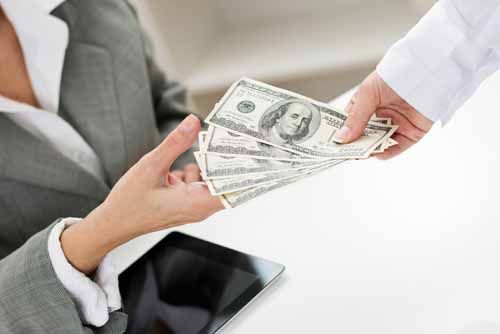 The Office of the Commissioner of Financial Regulation supervises and licenses financial institutions to ensure compliance with state laws and regulations. This allows citizens to conduct financial transactions safely and legally. One of the financial businesses that the office regulates is money transmitters.
A money transmitter is a business or individual that sells or issues payment instruments, stored value, or receives money or monetary value for transmission to another location within or outside the United States either by electronically or through the internet. Money transmission includes bill payer services and accelerated mortgage payment services.
One aspect of the licensing requirements is for Maryland money transmitters is to obtain a surety bond.
Surety Bond Requirements
The Office of the Commissioner of Financial Regulation is the obligee requiring Maryland money transmitters to obtain a security, such as surety bond. The minimum amount of a bond is $150,000, with a maximum amount of $1 million. The Commissioner sets the amount depending factors that include: financial condition of the applicant, average outstanding amount of business, experience of the applicant, and potential loss to buyers and holders if the applicant becomes financially impaired.
The security device is required to protect consumers in the event a money transmitter (the licensee) fails to comply with the state regulations and laws. If found in violation, a claim may be placed against the security device. In the case of a claim on a surety bond, the licensee (the principal listed on the bond) is responsible for repayment of the claimed amount. If the surety pays the claim, the principal is required to reimburse the surety.
License Requirements
A money transmitter license is required for the state of Maryland, unless the business is exempt under the Maryland Money Transmission Act. Applicants will need to apply for a license through the National Mortgage Licensing System (NMLS) website.
Licensing fees include:
License fees $2,000
Investigation fee $1,000
NMLS Processing fee $100
Credit report authorization fee $15
FBI Criminal background check for MU2 individual $36.25
License renewal $2,000
Licensing also includes:
Electronic submissions via the NMLS is required.
Obtain a Surety Device - A Surety bond or other security is required with a minimum bond amount of $150,000 and up to a maximum of $1 million. The bond must be obtained from a surety agency that is licensed to do business in Maryland. SuretyGroup.com meets this requirement.
Qualifying individual - applicants must have three years of experience in the money transmission business or other related financial services businesses.
Criminal Background check - FBI background check is required
Credit check - Individuals are required to authorize a credit report through NMLS, and must complete an Identity Verification Process along with an individual attestation before a license request for the company can be filed through NMLS. Corporations need to send a business credit report, dated not more than three months before the filing of the license request.
Audited Financial Statements of the applicant's most recent fiscal year end and showing a net worth of at least $150,000, plus an additional net worth of $10,000 for each additional location or authorized delegate, up to a maximum of $500,000.
Certificate of Good Standing
Maryland Certificate of Authority/ Good Standing
Trade Name Certificate, if applicable
Credit Report
Bank Account information
Disclosure Questions with an explanation for any "yes" response.
Business Plan
Document Samples
Management Chart
Organizational Chart /Description
Compliance Manual
Policies and Procedures description
Fee Schedule
List of countries the business will be transmitting to and from
Trust account authorization
How Much Will This Bond Cost?
The premium that you pay for a Maryland Money Transmitter Surety Bond is dependent on credit and the bond amount required. Our rates start at 1.5% of the bond amount with good credit. Contact our Surety Bond Specialists to get a free quote based on your specific situation.
Did You Know?
Maryland does not license or register companies that deal with virtual currencies, such as Bitcoin. The Commissioner is currently evaluating virtual currencies, and in the future may decide to regulate this currency. If that happens, then companies that deal with virtual currency will have to comply with state laws and regulations.
Related Links:
Maryland Department of Labor, Licensing & Regulation - Money Transmitter Licensing Information
NMLS - Maryland Money Transmitter License Application Information
More Surety Bond Questions?
Check out our FAQ page or What's a Surety Bond? page. Should you need or choose to buy a surety bond, buy from us. SuretyGroup.com has been underwriting surety bonds throughout the U.S. for more than 35 years. When you work with us, you enjoy the unique benefit of dealing with a team of highly experienced surety agents with in-house underwriting authority. This allows you to receive competitive, low rates, quick approvals, and immediate bond delivery. In most cases, your bond will be delivered within 24 hours after you apply for it.



For a downloadable application