Kansas Surety Bonds for Pesticide Business Licensees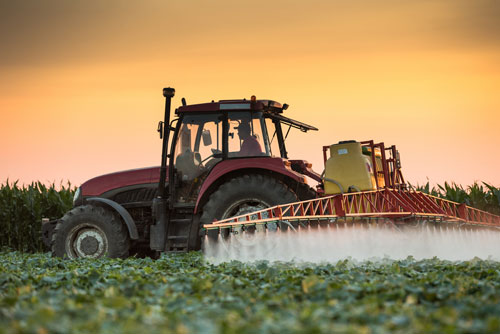 Those in Kansas who apply pesticides to someone else's property for compensation must be certified with the state as a commercial applicator. They must obtain a pesticide business license and at least one employee must have a Kansas commercial pesticide applicator certification. Exemptions include those who apply pesticides on at their own premises, veterinarians or physicians making pesticide applications as part of their professional services, and government agencies. A part of the licensing process includes showing proof of financial liability, such as a surety bond.
Pesticide Licensing Requirements
The Kansas Department of Agriculture regulates the licensing of pesticide companies. Qualifications for licensing include:
Must be at least 18 years old
Submit a completed application for commercial certification. Pay application fees of $140 per category.
Pass required exams with a score of 75% or better
Pay exam fees of $45 per exam
Register with the Secretary of State
Submit proof of financial liability for $6,000. This can include liability insurance or aerial insurance, an escrow account, letter of credit, or a surety bond.
Certificates expire on Dec. 31 of the second calendar year after the year of issue. Kansas has reciprocal certification agreements with Missouri, Nebraska, Oklahoma, Texas, Minnesota, and Indiana. Applicators from these states do not need to take the Kansas certification exams, but they do still need to submit a completed application and pay the application fee.
Categories of Kansas Pesticide Business Licenses:
Agricultural pest control
Forest pest control
Ornamental, turf pest control and interior landscaping
Seed treatment
Aquatic pest control
Right-of-Way pest control
Industrial, institutional, structural and health related pest control
Surety Bond Requirement
Applicants who obtain a surety bond must have at least $6,000 in coverage. The bond is to ensure compliance with the provisions of K.S.A. 2-2438 et seq., as amended and supplemented, and shall satisfy and discharge all judgements obtained against the principal.
The bond expires on Dec. 31 of the licensing year.
What Will This Bond Cost?
The premium you pay for a Kansas Pesticide Business Licensee's Surety Bond depends on your bond amount and your credit. Our rates start as low as $100 with good credit. Contact our Surety Bond Specialists for a free quote that fits your specific situation.
Did You Know?
Certifications must renew yearly. Applicators must take recertification training classes during their current certification period, or retest in the last three months of their certification period.
Related Links:
Kansas Department of Agriculture – Information for Pesticide Business Licensing
Kansas Pesticide Law
More Surety Bond Questions?
Check out our FAQ page or What's a Surety Bond? page. Should you need or choose to buy a surety bond, buy from us. SuretyGroup.com has been underwriting surety bonds throughout the U.S. for more than 35 years. When you work with us, you enjoy the unique benefit of dealing with a team of highly experienced surety agents with in-house underwriting authority. This allows you to receive competitive, low rates, quick approvals, and immediate bond delivery. In most cases, your bond will be delivered within 24 hours after you apply for it.



For a downloadable application