Indiana Money Transmitter License Surety Bond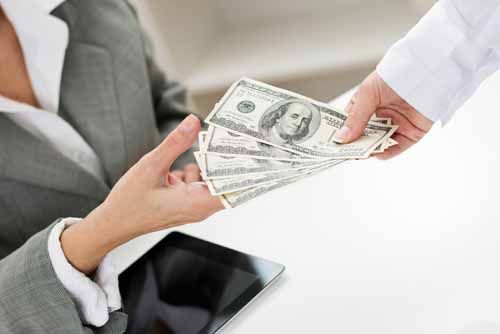 Indiana's Department of Financial Institutions supervises and regulates money transmitter businesses under the Indiana Money Transmitter Act. Out-of-state locations that do business with Indiana residents are subject to the Indiana Money Transmitter Act and its licensing requirements.
Money transmitters sell or issue payment instruments, or engage in the business of receiving money for transmission from, or transmitting money to another location by any means, including a payment instrument, wire, facsimile, or electronic transfer.
A payment instrument can include a check, draft, money order, traveler's check, or an instrument or written order for the transmission or payment of money. It does not include a credit card voucher, a letter of credit, or an instrument that is redeemable by the issuer in goods or services.
A part of the application process includes obtaining a $300,000 surety bond or other type of security.
Obligee and Surety Bond Requirements
The Indiana Department of Financial Institutions is the obligee requiring a $300,000 surety bond or other security device. The security guarantees the faithful performance of the licensee's obligations to receive, handle, transmit, and pay money. A surety bond must be secured through a company that is authorized to do business in Indiana. SuretyGroup.com fulfills that requirement.
License Requirements
Initial license applications must include an application fee of $1,000, paid for with a check or money order to the Department of Financial Institutions. Renewals are due by Dec.31 each year with a fee of $500 plus $10 per authorized delegated agent, to a total maximum fee of $2,000.
Requirements to be completed in NMLS:
Submission of Company Form (MU2) - this form serves as the application
Financial Statements show a company net worth of $600,000
Other Trade Names
Resident/Registered Agent
Primary Contract Employees
Non-Primary Contract Employees
Approvals and Designation - enter the company's FinCEN Registration Confirmation Number
Bank Account information
Disclosure questions with explanations for every "yes" answer
Qualifying Individual
Control Person (MU2) Attestation
MU2 Individual FBI Criminal Background Check
Surety Bond $300,000 submitted by a surety company that is authorized to do business in Indiana. SuretyGroup.com is licensed in Indiana and meets that requirement.
AML/BSA Policy (Anti-Money Laundering / Bank Secrecy Act)
Business Plan
Certificate of Authority/Good Standing Certificate
Company Staffing and Internal Policies
Document Samples
Errors and Omissions Insurance
Flow of Funds Structure
Formation Documents
Management Chart
Organizational Chart/Description
Credit Report Explanations
Legal Name/Status Documentation
Verification of Experience
Requirements submitted outside of NMLS:
MU2 Individual out-of-county Criminal Background Check
Non-Financial External Audits
How Much Does This Bond Cost?
The premium that you pay for an Indiana Money Transmitter Surety Bond is dependent on credit and the bond amount required. Our rates start at 1.5% of the bond amount with good credit. Personal and business financial statements will be required for the underwriting process. Contact our Surety Bond Specialists for a free quote that fits your specific situation.
Did You Know?
The Director may conduct annual on-site examinations of licensees or delegates, with a 45-day written notice.
Related Links
NMLS: Indiana New Application Checklist
More Surety Bond Questions?
Check out our FAQ page or What's a Surety Bond? page. Should you need or choose to buy a surety bond, buy from us. SuretyGroup.com has been underwriting surety bonds throughout the U.S. for more than 35 years. When you work with us, you enjoy the unique benefit of dealing with a team of highly experienced surety agents with in-house underwriting authority. This allows you to receive competitive, low rates, quick approvals, and immediate bond delivery. In most cases, your bond will be delivered within 24 hours after you apply for it.



For a downloadable application