Illinois Oil and Gas Well Permit Surety Bonds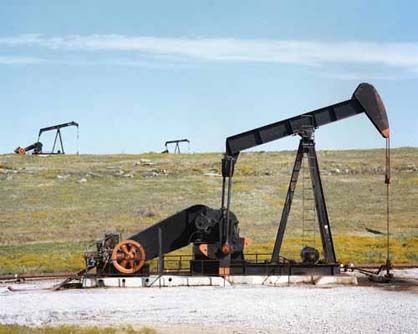 The oil and gas industry in Illinois has been regulated by the State since 1939. Today the Illinois Department of Natural Resources, Office of Oil and Gas Resource Management, regulates the permitting, drilling, operating, and plugging oil and gas production wells. The Department implements the Illinois Oil and Gas Act, enforces standards for the construction and operation of production equipment and facilities, regulates the injection of fluids into underground injection wells, and cleans up abandoned well sites. Drilling operators are required to obtain a security to guarantee compliance with state laws and a surety bond fulfills this requirement. The Department issues around 800 permits each year.
Obligee and Bond Conditions
The "obligee" is the entity that requires the bond or other form of security. In Illinois, the obligee is the Department of Natural Resources. The Department requires surety bonds or another form of security from oil and gas drillers to help protect Illinois' oil and gas resources, the environment, land, and water resources. Types of bonds are: liquid oilfield waste transportation systems, blanket bond (all wells or permits) and Individual bond (single well or permit).
In Illinois, surety bonds are required to:
Operate a liquid oilfield waste transportation system
Drill coal, structure, mineral or groundwater monitoring test hole or holes
Drill or deepen an oil or gas well
Transfer a well acquired for oil and gas production
Other means of security acceptable by the Department are an irrevocable letter of credit, or a certificate of deposit equal to the required bond amount.
The bond must be in place at all times and does not have the option to be canceled. The premium will renew on the bond on an annual basis for the life of the well. If the bond is replaced or ownership has changed, a new bond must be filed with the state. Failure to maintain a bond will result in a claim by the Department. Bonds remain in effect until all requirements have been satisfied, and the bond is released by the Department.
Surety Bond Requirements:
A financial security instrument surety bond is required based on the number of wells for any well sold, transferred, drilled or permitted.
$1,500 surety bond for a well less than 2000 feet deep
$3,000 surety bond for a well 2000 or more feet deep
$25,000 surety bond for up to 25 wells
$50,000 surety bond for up to 50 wells
$100,000 surety bond for all wells
$10,000 surety bond before a permit is issued, authorizing a person to operate a liquid oilfield waste system
$2,500 surety bond for each individual permit, $25,000 blanket surety bond to be filed before a permit is issued to drill a test hole or monitoring of a well
Permit Requirements:
Oil and gas operators must have a Permit to Drill, Deepen or Convert a Production Well (Form OG-10) from the Department before drilling can begin and a form of security, such as a surety bond must be in place.
Contents of the application include:
Provide the name of the well.
Provide a location survey.
Provide a map showing details of the well locations, including previously drilled wells, proposed wells, and offset wells on adjacent drilling units.
Complete the certification that the applicant owns the right to drill on the land.
State if the proposed well location is within limits of a city, town or village. If consent of the municipal authorities is required, provide a certified copy of the consent with the application.
Provide the name and address of the drilling contractor and type of drilling equipment to be used.
Estimate the proposed depth of the well.
Provide a statement as to whether the applicant has ever had a well bond forfeited by the Department and if so, state when and for what well.
Failure to provide a bond will result in the issuance of a cessation of operations order from the Department.
A bond is considered released when all wells covered by the bond are plugged and the site restored and the permittee is not in violation of the Illinois Oil and Gas Act.
How Much Will This Bond Cost?
The premium that you pay for an Illinois Oil and Gas Well Surety bond is dependent on credit and the number of wells. Our rates start at $100 for bond amounts $10,000 and under with good credit. Bond amounts over $10,000 start at 1% of the bond amount with good credit. For bond amounts over $50,000 business and/or personal financial statements will be required. Contact our Surety Bond Specialists for a free quote.
Did You Know?
Most of the oil and gas production in Illinois is located in the southern part of the state.
Related Links:
Illinois Department of Natural Resources
: Get more information on Illinois Oil and Gas permits and surety bonds.
Illinois Oil and Gas Association
More Surety Bond Questions?
Check out our FAQ page or What's a Surety Bond? page. Should you need or choose to buy a surety bond, buy from us. SuretyGroup.com has been underwriting surety bonds throughout the U.S. for more than 35 years. When you work with us, you enjoy the unique benefit of dealing with a team of highly experienced surety agents with in-house underwriting authority. This allows you to receive competitive, low rates, quick approvals, and immediate bond delivery. In most cases, your bond will be delivered within 24 hours after you apply for it.



For a downloadable application