Georgia Employee Leasing Company Surety Bonds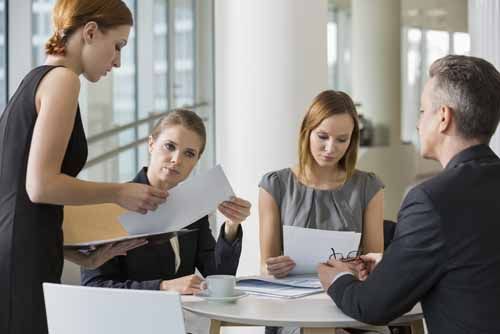 The Georgia Department of Labor oversees Employee Leasing Companies and ensures that the businesses meet the state requirements found in the Georgia Department of Labor Rules Chapter 300-2-7, including registration and financial security obligations.
Professional Employer Organizations (PEO), Staff Leasing or Employee Leasing Companies provide services that allow companies to focus on the success of the business. Services include payroll outsourcing, employee benefits, human resources outsourcing, employee recruiting, retirement and investment plans and workplace safety.
A form of financial security can include a surety bond. The Employee Leasing Company's Statutory Surety Bond ensures that PEO's comply with Georgia's Employment Security Law.
Surety Bond and Application Requirements:
Companies that provide employee leasing services have a surety bond requirement. The minimum surety bond amount is $10,000 or 2.7% of the taxable payroll for the previous four calendar quarters ending June 30. A new employee leasing company must meet the $10,000 surety bond limit the first year.
Instead of a surety bond, an irrevocable letter of credit, cash deposit or security can be deposited with the state in amount equal to the bond.
An employee leasing company will also need to furnish the Department with a current list of all clients and customers in Georgia (corporate and trade names).
Provide the physical and mailing address used for customers and clients.
Provide any previous DOL registrations by account number for clients and customers.
Provide evidence of an accounting system that separates clients or customers and documents wages, compensation paid to or on behalf of, records of days and hours worked and location of where the work was performed.
Provide the names, addresses, social security numbers, job position and ownership interests for each owner and officer of the company.
Provide a federal employer identification number for all clients or customers.
Employee leasing companies will need to notify the Department of any changes, deletions or corrections at least quarterly.
How Much Will This Bond Cost?
The premium that you pay for a Georgia Employee Leasing Company Surety Bond is dependent on credit and the bond amount required. Bond amounts over $50,000 will require business and personal financial statements. Premium rates start as low as 1% based on good credit.
Related Links:
Georgia Department of Labor Website
More Surety Bond Questions?
Check out our FAQ page or What's a Surety Bond? page. Should you need or choose to buy a surety bond, buy from us. SuretyGroup.com has been underwriting surety bonds throughout the U.S. for more than 35 years. When you work with us, you enjoy the unique benefit of dealing with a team of highly experienced surety agents with in-house underwriting authority. This allows you to receive competitive, low rates, quick approvals, and immediate bond delivery. In most cases, your bond will be delivered within 24 hours after you apply for it.



For a downloadable application