Georgia Check Casher or Check Cashing Surety Bonds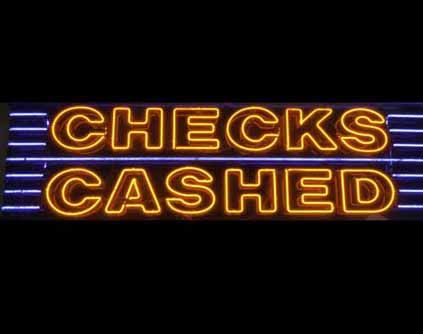 The Georgia Department of Banking and Finance requires anyone engaged in the business of cashing checks or other payment instruments for a fee in Georgia to apply for a license through the National Mortgage Licensing System (NMLS) and obtain a Georgia Check Casher Surety Bond. This can include, but is not limited to, cashing of checks, money orders, income tax refunds and gift cards.
Surety Bond and License Requirements:
Check Casher applicants will need to apply for a license through the NMLS website and pay the credit report, licensing and NMLS processing fees. Any applicant that has unpaid tax liens, judgements, and charged-off accounts will not receive a license until the accounts are settled. If there are any child support delinquencies that have not been paid, proof of remedy is required. If there are any open collection accounts, proof of a payment plan is required. In addition to any credit issues, applicants must be able to pass a criminal background check. Any false statements or omissions will result in a denial of the license.
Applicants using a DBA or Trade Name will need to provide a copy of the Registration Certificate.
Complete the bank account information for any operating account of the business.
Obtain a $10,000 surety bond for the main location. An additional $5,000 surety bond is required for any other business location.
If any Disclosure Statement was answered "Yes," provide an explanation for each. If any derogatory remarks are noted on the credit report, provide an explanation or proof that the situation has been resolved.
Any owner, officer, control person, or partners with a 10% or more interest are required to authorize a criminal background check. Any individuals in a position of control are required to authorize a credit check.
Applicants that are a partnership, corporation, or limited liability company must provide copies of their formation documents and a Certificate of Authority or Good Standing Certificate.
Provide a management chart containing information on any divisions, officers and managers and a list of the people who have check cashing authority and their position.
The following documents must be mailed directly to the Geogia Department of Banking and Finance, Non-Depository Institutions Division, 2990 Brandywine Road Suite 200, Atlanta, GA 30341-5565 Attn: MSB Applications. A copy of a business license, an original signed copy of the Signature and Oath Document, a photo ID of all control persons, and a verification of lawful presence with the United States Affidavit.
How Much Will This Bond Cost?
The premium that you pay for a Georgia Check Casher Surety Bond is dependent on credit and the number of business locations. Our rates start at 1.5% of the bond amount with good credit. Contact our Surety Bond Specialists for a free quote that fits your specific situation.
Related Links:
Georgia Check Casher/Check Cashing License Requirements
Georgia Check Casher/Check Cashing License Information
More Surety Bond Questions?
Check out our FAQ page or What's a Surety Bond? page. Should you need or choose to buy a surety bond, buy from us. SuretyGroup.com has been underwriting surety bonds throughout the U.S. for more than 35 years. When you work with us, you enjoy the unique benefit of dealing with a team of highly experienced surety agents with in-house underwriting authority. This allows you to receive competitive, low rates, quick approvals, and immediate bond delivery. In most cases, your bond will be delivered within 24 hours after you apply for it.



For a downloadable application