District of Columbia Money Transmitter Surety Bonds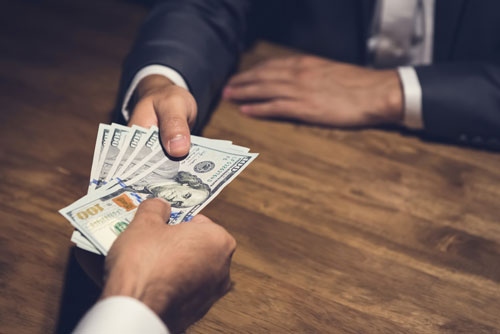 Washington DC's Department of Insurance, Securities and Banking (DISB) administers and enforces the state's laws and regulations for financial institutions that do business in the District of Columbia. This includes regulating the state's money transmitters.
A money transmitter is in the business of transmitting money either within the U.S. or abroad, by any means including payment instruments, wires, facsimiles, or electronic transfers.
A payment instrument can be a written or electronic check, draft, money order, travelers check or other written instrument or order for the transmission of payment or money. This does not include credit card vouchers, letters of credit, or other instrument that is redeemable by the issuer for goods or services.
Money transmitters in the District of Columbia must be licensed and a part of the licensing process includes obtaining a surety bond or other type of security. A surety bond guarantees the faithful performance of a money transmitter to receive, handle, transmit, or pay money.
Obligee and Surety Bonds:
The District of Columbia's Department of Insurance, Securities and Banking is the obligee requiring the security. A surety bond or irrevocable letter of credit must be in the amount of $50,000 plus $10,000 for each additional location, with a maximum amount of $250,000.
If a licensee would like to submit a different type of security, they may request a substitute in writing, and explain why they are asking for a substitution and why another form of security should be acceptable. The Department will review the request to determine if the request is satisfactory to secure the faithful performance of the applicant, and if reasonable cause exists for a substitute. Substitutes may include cash, interest-bearing stocks and bonds, notes, debentures.
The security device must remain in place for five years after money transmissions have ceased. The Commissioner may allow the security to be reduced or eliminated prior to that time, or substitute a letter of credit or other security at the time the licensee ceases operations.
License Requirements:
Money transmitters in the District of Columbia will need to apply for a license through the National Mortgage Licensing System (NMLS) website. The license fee and renewal fee is $500 plus $25 for each additional location, with a maximum fee of $2500.
A net worth of at least $100,000 is required, plus an additional $50,000 for each extra location, up to a maximum requirement of $500,000.
The Department may conduct on-site investigations and/or examinations of applicants and authorized delegates. The fee for investigations is $60 an hour per person. The examination fee is $250 per examination, plus $60 per hour. For both the investigation and examination, the licensee must also pay for costs that include airfare, lodging, food, parking, car usage, and mileage.
Licensees must complete an annual renewal report. Failure to submit the report will result in a fine of $50 a day from the due date until the date the report is submitted.
The following information needs to be provided:
Authorized Agents (Delegates) Locations
List Other Trade Names
Resident/Registered Agent
Bank Account Information
Disclosure Questions
Financial Statements
Business Plan
Flow of Funds Structure
Certificate of Registration
Document Samples
Formation Document
Management Chart
Organizational Chart/Description
Obtain a Surety Bond or other similar security device - $50,000, plus $10,000 per additional location, with a maximum amount of $250,000
Anti-Money Laundering/Compliance Program (AML)
Approvals and Designations - Money Service Business (MSB) registration number on the FinCEN Registration line
Previous Money Transmission Activity in the District of Columbia
How Much Will This Bond Cost?
The premium that you pay for a District of Columbia Money Transmitter Surety Bond is dependent on credit and the bond amount required. Our rates start at 1.5% with good credit. Bond amounts over $50,000 require business and personal financial statements for underwriting review. Contact our Surety Bond Specialists for a free quote that fits your specific situation.
Did You Know?
MSBs (Money Services Businesses) must register with the U.S. Treasury Department within 180 of the start of operations.
Related Links:
District of Columbia Money Transmitter Information
District of Columbia NMLS Money Transmitter License Information
More Surety Bond Questions?
Check out our FAQ page or What's a Surety Bond? page. Should you need or choose to buy a surety bond, buy from us. SuretyGroup.com has been underwriting surety bonds throughout the U.S. for more than 35 years. When you work with us, you enjoy the unique benefit of dealing with a team of highly experienced surety agents with in-house underwriting authority. This allows you to receive competitive, low rates, quick approvals, and immediate bond delivery. In most cases, your bond will be delivered within 24 hours after you apply for it.



For a downloadable application