California Surety Bonds for Transporters of Inedible Kitchen Grease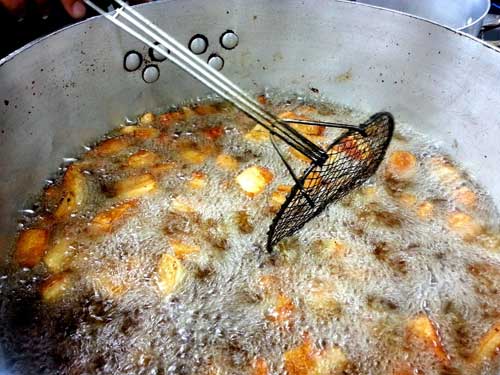 Leftover cooking grease from restaurants, food manufacturers and supermarkets must be disposed of properly. Grease cannot be poured down drains or it will cause major clogging problems. Pouring it in rivers and oceans would be a huge environmental issue. Recycling the grease is an option that makes sense. In fact, recycling inedible kitchen grease in California is a million-dollar business.
California transporters who deliver inedible kitchen grease to be recycled must be registered with California's Meat, Poultry and Egg Safety Branch of the California Department of Food and Agriculture. A part of registration includes obtaining liability insurance or a surety bond.
The Business of Used Cooking Grease
Recycling inedible kitchen grease in California is a big business that has become the target of theft, resulting in companies losing millions of dollars a year to criminals who steal the grease and resell to renderers.
Renderers process the inedible kitchen grease into a variety of products such as feed for livestock, bio-diesel fuel, soap, cosmetics, shampoo, and lubricants. However, theft of grease has become a serious threat to the industry. New legislation helps reduce the theft and make sure the grease is transported and sold legally. Legislation helps prevent improper disposal of the grease, which protects the environment and reduces blockage of sewer systems.
Transporter Registration and Surety Bonds
Before obtaining a registration to transport grease, transporters must first obtain proof of liability insurance or a surety bond. The bond amount is $2 million for commercial transporters and $1 million for personal transporters. The bond ensures that transporters will adhere to the state laws and regulations for transporting grease.
Registration includes completing the application providing all transporters' names, driver's license numbers, vehicle license plate numbers, and destination of where they are transporting the grease. There is a registration fee of $100 plus an enforcement fee of $300 per vehicle, up to a maximum of $3000 per year. Registration expires on Dec. 31 each year.
Transporting inedible kitchen grease without a registration, knowingly purchasing grease from an unregistered transporter, and knowingly purchasing stolen grease are crimes that could lead to fines, imprisonment, or both.
What Will This Bond Cost?
The premium you pay for an Inedible Kitchen Grease Transporter surety bond depends on the bond amount, and the transporter's business and personal financials. Our rates start at 1% of the bond amount with good credit. Contact the Surety Bond Specialists at SuretyGroup.com for a free quote that fits your specific needs.
Did You Know?
California began their Inedible Kitchen Grease Program in 1995, due to widespread theft of kitchen grease. The program is funded by fees from renderers, collection centers and transporters.
Related Links:
California Inedible Kitchen Grease Program
More Surety Bond Questions?
Check out our FAQ page or What's a Surety Bond? page. Should you need or choose to buy a surety bond, buy from us. SuretyGroup.com has been underwriting surety bonds throughout the U.S. for more than 35 years. When you work with us, you enjoy the unique benefit of dealing with a team of highly experienced surety agents with in-house underwriting authority. This allows you to receive competitive, low rates, quick approvals, and immediate bond delivery. In most cases, your bond will be delivered within 24 hours after you apply for it.



For a downloadable application