Arizona Money Transmitter/ Remitter Surety Bond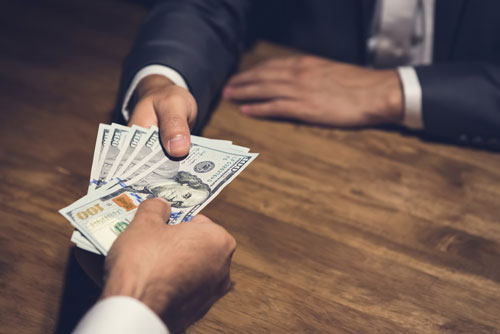 The Arizona Department of Financial Institutions (AZDFI) works to safeguard the public welfare by protecting their financial assets. The Department licenses, supervises, and regulates state-chartered financial institutions and enterprises, plus ensures compliance with state and federal laws, and investigates complaints by consumers. One of the industries regulated by the Department is money transmitters also known as money remitters, who are required to carry a surety bond.
A money transmitter or remitter is a person who sells or issues payment instruments, or receives payment for the transmission of money.
There are different types of payment instruments, including checks, drafts, money orders, and traveler's checks. A payment instrument does not include items that are redeemable for merchandise or service, such as a credit card voucher or a letter of credit.
Obligee and Surety Bond Requirements
Arizona's Department of Financial Institutions is the obligee that requires at least a $25,000 surety bond. The bond amount depends on the number of authorized delegates and Arizona locations a business has.
1-5 locations: $25,000 bond
6-20 locations: $100,000 bond
21-200 locations: $100,000 bond plus $5000 for each delegate or location, with a maximum of $250,000.
201 and more locations: $250,000 bond plus $5000 for each delegate or location, with a maximum of $500,000.
License Requirements
Activities authorized with a Money Transmitter license are:
Bill paying
Issuing and/or selling drafts
Selling prepaid access/stored value
Check cashing
Electronic Money Transmitting
Foreign currency dealing or exchanging
Issuing money orders
Issuing prepaid access/stored value
Other-Money Services
Selling money orders
Licensing Fees:
Application fee: $1500
FBI Criminal Background Check for MU2 Individual: $36.25 a person

License/Registration Fees:
Issued in Nov. - Jan, Fee is $500
Issued in Feb - April, fee is $375
Issued in May - July Fee is $250
Issued on Aug- Oct Fee is $125

Uniform Authorized Agent Reporting Annual Processing Fee:
There is an annual fee of twenty-five cents for each active authorized agent/delegate location. There is no fee for first 100 active agents reported. The fee is capped at $25,000 per licensee in one year.
Requirements to be completed in NMLS:
Submission of company form (MU1), which serves as the license application
Financial statements
Authorized Agents (Delegates) Locations
Other Trade Names
Resident/Registered Agent
Primary Contact Employees
Disclosure Questions
Control Person (MU2) Attestation
MU2 Individual FBI Criminal Background Check Requirements
Certificate of Good Standing
Surety Bond of at least $25,000
What Will This Bond Cost?
The premium that you pay for an Arizona Money Transmitter Surety Bond is dependent on credit and the bond amount required. Our rates start at 1.5% of the bond amount with good credit. Surety bond amounts over $50,000 will require personal and business financial statements for underwriting purposes. Contact our Surety Bond Specialists for a free quote that fits your specific situation.
Did You Know?
Applications are to be submitted online through the NMLS.
Related Links:
Arizona NMLS Money Transmitter License Information
Arizona Money Transmitter Information
Read our blog,
New Changes to Arkansas Money Transmitter Licensing
More Surety Bond Questions?
Check out our FAQ page or What's a Surety Bond? page. Should you need or choose to buy a surety bond, call us first. SuretyGroup.com has been underwriting surety bonds throughout the U.S. for more than 35 years. When you work with us, you enjoy the unique benefit of dealing with a team of highly experienced surety agents with in-house underwriting authority. This allows you to receive competitive, low rates, quick approvals, and immediate bond delivery. In most cases, your bond will be delivered within 24 hours after you apply for it.



For a downloadable application