Alabama Underground Storage of Gas in Reservoirs Bond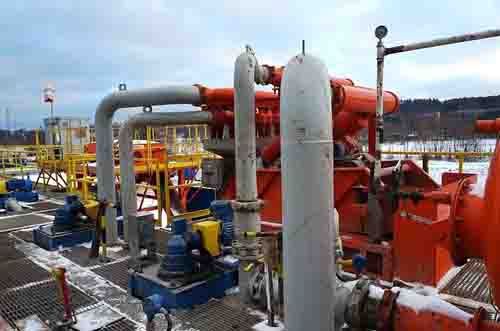 The State Oil and Gas Board of Alabama, is a regulatory agency that promotes conservation and protection of the environment. The board enforces the state rules and regulations through oversight of oil and gas exploration, drilling, operation, and production, Class II injection wells, and Underground Storage of Gas in Reservoirs in Alabama.
The Oil and Gas Board of Alabama Administrative Code 400-1-1-.01 thru 400-7-1-.23 defines the regulations process for oil and gas permits. The following is required for the underground storage of gas in reservoirs or tanks permit for the purpose of commencement of "operation of any underground storage facility for solution-mined cavity and storage well (400-6-3-.01).
Surety Bond and Permit Requirements:
Complete the permit application (OGB-1D).
Submit a plat (in triplicate) of the proposed underground storage well.
Submit a copy of your surface injection system schematic diagram.
Submit a copy of a wellbore sketch.
Submit a casing test result.
Provide proof of an adequately cemented long string of casing (reservoir storage).
Provide an annotated electric log through injection zone.
Provide an affidavit of specifying source of fluids.
Provide an analysis of fluids to be injected in the injection zone.
Provide a statement of the proposed treatment of the injected fluids prior to injection.
Other forms and documents may be required.
Complete an organization report (Form OG-5).
A $100,000 surety bond is required for the permit. The original bond must be signed by each authorized owner, individual, partner or officers and submitted to the board.
How Much Does This Bond Cost?
The premium that you pay for an Alabama Underground Storage of Gas in Reservoirs Surety Bond is dependent on credit, personal and business financial statements. Our rates start at 1% of the bond amount with good credit. Contact our Surety Bond Specialists for a free quote.
Did You Know?
Global underground gas storage is expected to increase by more than 200 billion cubic meters by 2030 from the current day storage of approximately 377 billion cubic meters.
Related Links:
Alabama State Oil and Gas Board - Administrative Code
The Basics of Underground Natural Gas Storage
More Surety Bond Questions?
Check out our FAQ page or What's a Surety Bond? page. Should you need or choose to buy a surety bond, buy with us. SuretyGroup.com has been underwriting surety bonds throughout the U.S. for more than 35 years. When you work with us, you enjoy the unique benefit of dealing with a team of highly experienced surety agents with in-house underwriting authority. This allows you to receive competitive, low rates, quick approvals, and immediate bond delivery. In most cases, your bond will be delivered within 24 hours after you apply for it.



For a downloadable application