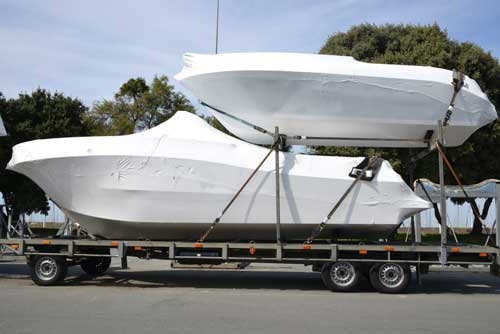 When Alabama manufacturers or dealers of boats, mobile homes, semi-trailers, trailers and utility trailers sell a product to someone in another state, they may need a temporary license and registration to transport the vehicle to that state where it will then be permanently licensed and registered by the new owner.
Alabama Senate Bill 293, enacted in 2018, adds boat trailers, semi-trailers, and utility trailers to the list of trailers that may apply for a temporary license plate and a temporary registration certificate for transportation purposes.
Previous to this bill, the list included mobile homes, trailer coach, travel trailers, and house trailers.
Once approved for a temporary license plate and registration certificate, the manufacturer or dealer must obtain a surety bond if they don't already have one in place.
Surety Bond Requirements:
Before this law was enacted, manufacturers and dealers had to provide a $5,000 surety bond or show a $25,000 net worth. The current requirements raise the bond amount to $25,000. Those who are already bonded for their business are not required to obtain this bond.
A surety bond involves three parties: an obligee, which is the state of Alabama; a principal, which is the manufacturer or dealer; and a surety company. The bond guarantees that the principal will comply with the state laws and regulations, and will guard against any loss or damage to clients or to the state.
What Will This Bond Cost?
The premium you pay for a motor vehicle dealer surety bond depends on your credit. Contact our Surety Bond Specialists for a free quote.
Did You Know?
A temporary tag and temporary registration in Alabama is valid for 20 days from the date of issuance.
Related Links:
More Surety Bond Questions?
Check out our FAQ page or What's a Surety Bond? page. Should you need or choose to buy a surety bond, buy from us. SuretyGroup.com has been underwriting surety bonds throughout the U.S. for more than 35 years. When you work with us, you enjoy the unique benefit of dealing with a team of highly experienced surety agents with in-house underwriting authority. This allows you to receive competitive, low rates, quick approvals, and immediate bond delivery. In most cases, your bond will be delivered within 24 hours after you apply for it.



For a downloadable application