Permit Bonds for Emergency Management Agency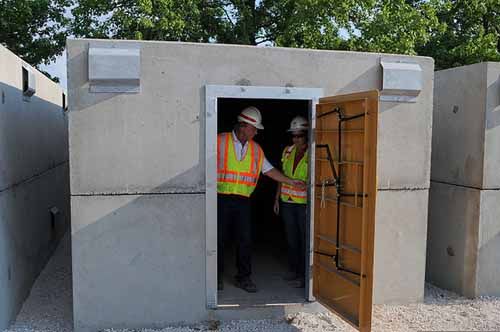 Those who manufacture prefabricated storm shelters need to obtain a surety bond to stay compliant with state regulations.
The Alabama Emergency Management Agency is responsible for the licensing/certification and consumer protection of prefabricated storm shelters.
The Emergency Management Agency ensures that the shelter design complies with the standards set forth by the Federal Emergency Management Agency (FEMA) and has the oversight authority on all storm shelters which includes both community and residential.
The Alabama Legislative Act 2012-224 defines the licensing requirements for manufacturers of prefabricated storm shelters.
The following is required for the license:
1. Compliance of the design and building of prefabricated storm shelters which includes:
• That each shelter plan is stamped on the first blueprint page and;
• That the shelter complies with the applicable standards of FEMA ICC-500 Codes;
• Dated and;
• Signed by a registered architect or licensed engineer
2. Submission of blueprints meeting current FEMA and ICC-500 standards and stipulate the shelters number of accommodations for persons: standing, in wheelchairs and/or bedridden
3. All resident and nonresident manufacturers must obtain a surety bond in the amount of $20,000 and submit an original bond annually to the Alabama Emergency Management Agency
Premiums for the Alabama Emergency Management Agency Permit Bond for prefabricated storm shelter manufacturers can be as low as $200 per year depending on credit.
SuretyGroup.com
Phone: 1‑844‑432‑6637
Email: info@suretygroup.com
Fax: 404-351-3237
Hours: 8:00-5:00 CST, Monday through Friday
SuretyGroup.com is your online bond provider.