Alabama Custom Application of Pesticides Surety Bonds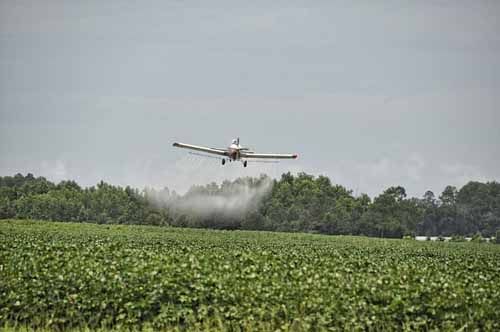 Businesses that spray pesticides by aircraft or ground equipment are required by the state to obtain an Alabama Custom Application of Pesticides Surety Bond.
The State of Alabama Department of Agriculture and Industries, Pesticide Management Section is responsible for regulating individuals or companies engaged in the pesticide business and the licensing of custom application of pesticides either by aircraft or by ground equipment.
Article III, Chapter 27 Title 2 of the Code of Alabama defines the custom application of pesticides license requirements. Custom applicators of pesticides must first demonstrate knowledge and skills for appying pesticides by aircraft or ground equipment that can be harmful to human health, animals, aquatic life and bees in order to control weeds, insects and plant diseases. in addition to the license, custom applicators will need to obtain a surety bond to ensure compliance of state laws and faithful performance of duties.

Surety Bond and License Requirements:
Completion of the application and payment of the license fee.
For pesticide application by aircraft, provide a copy of the applicant FAA Part 137 Exemption and provide the FAA Certificate Number and copy of the applicant pilot certification (if applicable).
For pesticide application by ground equipment, attach a copy of the applicants Insurance Certification which includes chemical drift coverage.
Obtain a surety bond in the amount of $3,000 per each applicant operating ground equipment or aircraft (not to exceed two aircraft) up to a maximum of $12,000.
Licenses and bonds renew annually December 31st of each year.
How Much Does a Custom Application Pesticide Bond Cost?
The premium you pay for an Alabama Custom Application Pesticide Bond start as low as $100 based on a single applicant.
Did You Know?
The fee for new product registrations is $600 and is good for two years.
Related Links:
Alabama Department of Agriculture & Industries: Pesticide Management Divsion
Alabama Subterranean Termite Eradication and Control Work Bond
More Surety Bond Questions?
Check out our FAQ page or What's a Surety Bond? page. Should you need or choose to buy a surety bond, buy from us. SuretyGroup.com has been underwriting surety bonds throughout the U.S. for more than 35 years. When you work with us, you enjoy the unique benefit of dealing with a team of highly experienced surety agents with in-house underwriting authority. This allows you to receive competitive, low rates, quick approvals, and immediate bond delivery. In most cases, your bond will be delivered within 24 hours after you apply for it.



For a downloadable application