TTB Alcohol Manufacturer Surety Bond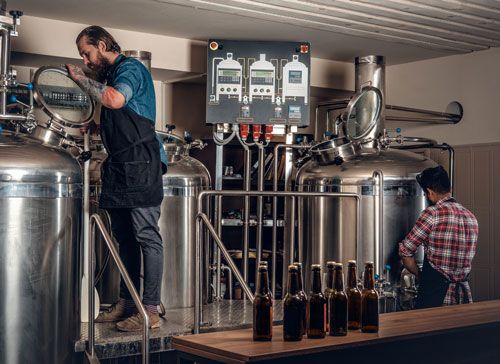 Alcohol Surety Bonds are required for the sale, shipping, manufacturing and warehousing of liquor for both beverage and non-beverage purposes by one or more of the following: your county, state, or the federal government. The bond guarantees that the payment of taxes collected on liquor and other alcoholic beverage sales will be made to the entity requiring the bond.
If you are a new alcohol manufacturer, you would need to provide an alcohol surety bond in order to receive your liquor license. Each state has their own regulations regarding renewal time frames for your surety bond and more on this below.
What is an Alcohol Surety Bond?
With this type of surety bond, it is your obligation to pay all applicable alcohol taxes appropriately. If you (the Principal) were to fail to comply with the bond's terms, the government can make a claim on the bond to recover any unpaid taxes or fines.
A surety bond is a legal contract between three entities. The three parties involved in a surety bond are:
The Principal- In the case of alcohol bonds, this is the business or individual who will sell liquor.
The Obligee- The federal government Department of the Treasury, Alcohol, Tobacco Tax and Trade Bureau that requires the bond.
The Surety- The insurance company that guarantees the bond.
New Business Information
If you are a new business, such as a brewery or winery, understanding the process can be challenging. The first step in the process is determining what type of business you fall under, such as:
Alcohol Producers and Manufacturers (Distilleries, Breweries, or Wineries)
Alcohol Importers, Wholesalers and Exporters
Alcohol Users and Dealers
Once you determine your business type, the Alcohol and Tobacco Tax and Trade Bureau (TTB) has created an interactive tutorial to give you a better understanding of starting a new business that will be regulated by the TTB. Part of this process includes filing an application with the TTB and receiving approval before you can begin operations. Applications can be completed online or via paper applications at the TTB's website.
Applications for new businesses
TTB Forms
Consent to Surety Forms
Surety Bond: Brewer's Bond
Obligee: Department of the Treasury: Alcohol and Tobacco Tax and Trade Bureau (TTB)
Form: OMB 1513-0015
Surety Bond Amount: A Surety Bond is required if sales from excise tax exceeds $50,000 per year.
What Does This Bond Cost?
The premium amount that you pay for an Alcohol Manufacturer Surety Bond is dependent on credit, and on the bond amount required. Premiums start at 1% of the bond amount with good credit. Contact our Surety Bond Specialists for a free quote that fits your specific situation.
Related Links:
Read our blog,
TTB Eliminates Surety Bond Requirement for Small Businesses
Read our blog,
How Do You Like Your Alcohol?
Read our blog,
Interesting and Strange Alcohol Laws Across the States
West Virginia Wine Distributor and Supplier Bonds
New York Liquor Bonds
Puerto Rico Alcohol Beverage Tax Bond
More Surety Bond Questions?
Check out our FAQ page or What's a Surety Bond? page. Should you need or choose to buy a surety bond, buy from us. SuretyGroup.com has been underwriting surety bonds throughout the U.S. for more than 35 years. When you work with us, you enjoy the unique benefit of dealing with a team of highly experienced surety agents with in-house underwriting authority. This allows you to receive competitive, low rates, quick approvals, and immediate bond delivery. In most cases, your bond will be delivered within 24 hours after you apply for it.



For a downloadable application